Updated: November 5th, 2021
While 2020 was an exciting year of growth in the Nocatee Town Center, 2021 is set to be just as thrilling for the Nocatee community. For a video tour that highlights several of last year's additions, check out this video. Along with new businesses, there will also be new amenities and neighborhoods that are sure to make headlines! Here's a 2021 run-down:
Nocatee Town Center Additions:
Suntrust Bank: Now Open! The bank is located near the new Greenwise at Nocatee, at the intersection of Town Plaza Avenue and Crosswater Parkway.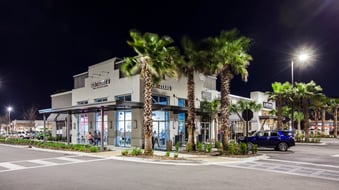 fit20: Now Open! fit20 is an innovative and unique training method. At fit20 in Nocatee's Town Center, residents can train once per week for 20 minutes with a personal trainer. Most members show measurable results within a few sessions, and more importantly, they feel stronger.
The Link: Now Open! The Link's 22,500 square foot building is being built to encapsulate the vision of becoming the "Hub of Nocatee" with the theme of "Learn - Play - Think - Do" for all age groups from Pre-K to Active Adults. There will be an activity center, co-working space and a startup innovation hub.
Amazing Explorers Academy: Now Open! Amazing Explorers Academy fosters a nurturing environment where little minds open up to develop lifelong learning skills designed to inspire, connect and engage. Amazing Explorers will be located on the northwest corner of the roundabout between Lakeside and Publix - directly north of the Town Plaza Office Condos and opposite Flagler Health Village.
CVS Pharmacy: Now Open! As of March 2020, construction on CVS Pharmacy at Nocatee is officially underway! CVS will be located north of the David Weekley Homes Design Center, on the corner of Nocatee Village Drive and Crosswater Parkway in Nocatee's Town Center. This new location will offer a greater assortment of healthier foods, expanded customer-driven personalization, convenient access to trends and coveted brands, free pharmacy delivery, and more, all designed to enhance the customer experience and make it even easier to get and stay healthy.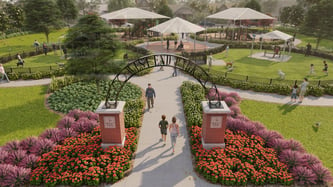 West End at Town Center: West End at Town Center is a neighborhood featuring single family homes by David Weekley Homes and Providence Homes from the Low $400's, offering one- and two-story homes ranging from approximately 1,611 to 2,700 square feet of living space. Dostie Homes and Toll Brothers are now selling one and two-story villas in West End at Town Center. ICI Homes is now selling townhomes in West End at Town Center.
West End Park: West End Park is a new CDD park with large shaded playgrounds, open-air pavilion, and small and large dog park spaces to socialize and exercise our four-legged family members. Access to this entire park is very easy with plentiful sidewalks, EV parking and bike racks that are ideal for active families looking to walk, run, bike, or play in the community park.
Also Coming Soon to Nocatee...
Settler's Landing: Fishing poles, kayaks, and a Tom Sawyer Island theme- Settler's Landing is the first neighborhood of its kind in Nocatee. Settler's Landing will feature new homes by David Weekley Homes, Dostie Homes, ICI Homes, Providence Homes, Riverside Homes and Toll Brothers. Home builders are offering one- and two-story single-family homes ranging from 1,570-3,876 square feet of living space, starting in the Mid $400's.
Settler's Pond: Settler's Pond is a new CDD amenity that all Nocatee residents can enjoy. Slated to open Spring 2022, it will feature a recreational area anchored by a 14-acre pond that will be stocked for fishing. Outdoor enthusiasts will be able to use non-motorized water vehicles, such as kayaks, paddleboards, and canoes to reach the pond's best fishing spots. A large shaded playground will entertain kids of all ages and its lakefront pavilion is a great spot to relax with restrooms on site. Also featured are small and large dog park spaces. Settler's Pond will include a walking trail to the new Settler's Landing neighborhood, as well as a walking trail to the new K-8 school. EV parking and bike racks will be available.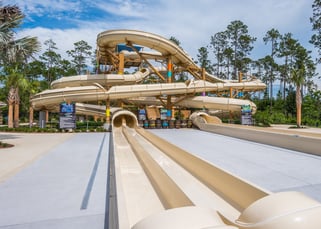 Splash and Spray Water Parks: Enhancements to the current award-winning waterparks are anticipated to be completed this summer. A dueling head-first mat slide, a two-person tube slide, an adults-only serenity pool and a new family pool will all be included. Now Open! To learn more, click HERE.
With great shopping, charming places to eat and drink, and specialty services, the Nocatee Town Center is a popular destination for community residents and Jacksonville area locals alike. Aside from retail, the Town Center is also home to several neighborhoods. To learn more about Nocatee's village-like neighborhoods, click HERE.
---
For more information on new homes available and the Nocatee lifestyle, explore www.Nocatee.com, stop by the Nocatee Welcome Center or call 1-904-924-6863.