Updated: March 14, 2022
ToyTopia will be the second tenant in the
new retail building
currently under construction in the Nocatee Town Center. ToyTopia is slated to open in early Summer 2022.
Safari Ltd Press Release (July 9, 2021)
Beloved educational toy brand Safari Ltd® to open its first interactive retail store: ToyTopia! Think immersive, modern shopping where products are off the shelves and in your kiddo's hands!
The family-owned creator of Toys That Teach® has been making educational figurines for almost 40 years and recently relocated its headquarters to Jacksonville, FL. The Pariente family themselves moved into the Nocatee neighborhood and instantly fell in love. They decided to create a much-needed local toy store in their new home, a special place where families can come together, play and take home quality toys.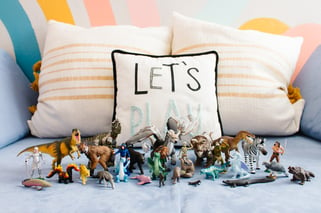 Just in time for the new year (and *fingers crossed* for a possible early open for the holiday season), ToyTopia will carry Safari Ltd®'s signature fan favorite collections, which are carefully crafted and non-toxic. Their animal, dinosaur and mythical toys are loved and trusted by parents, educators and creators! ToyTopia will also feature other trusted brands and products curated by the Parientes, like BiOBUDDi plant-based building blocks, Folkmanis plush puppets, and other popular, eco-friendly brands for kids of all ages! The local toy store hopes to be a neighborhood hangout by hosting interactive sessions for kids, parent/child classes and more!
"The goal is to become the Cheers of toy stores for Nocatee," said Christina Pariente, President of Safari Ltd, mom of 3 kiddos and Nocatee local. "Seriously! Toy stores should be fun. We want to be the place families go to relax and let their kid's imaginations run wild. You know, get all that energy out before bedtime!"
ToyTopia will be a special extension of Safari Ltd®, which has been teaching kids about the natural world around us and encouraging its conservation through the joy of play. A neighborhood hangout where children can unleash their imaginations and create memorable moments. The iconic family brand will continue to bring the magic of play to kids of all ages with the most popular toys carefully curated and sourced in an experimental space.
With great shopping, charming places to eat and drink, and specialty services, the Nocatee Town Center is a popular destination for community residents. Exciting new retail includes CareSpot Urgent Care, Clean Juice, First Watch and Greenwise Market. To learn more, check out Nocatee's Town Center Business Directory.


---
To learn more about new homes in the Nocatee community, explore Nocatee.com, stop by the Nocatee Welcome Center or call 904-924-6863.