**Updated 5/20/21**
It's no surprise that Nocatee is different than your average suburb or neighborhood. The master-planned community offers a variety of builders, home-styles and price ranges. What is surprising (to non-residents at least) are Nocatee's resort-style amenities, local partnerships and other resident-exclusive offers.
Here are ten of Nocatee's most exciting benefits and perks: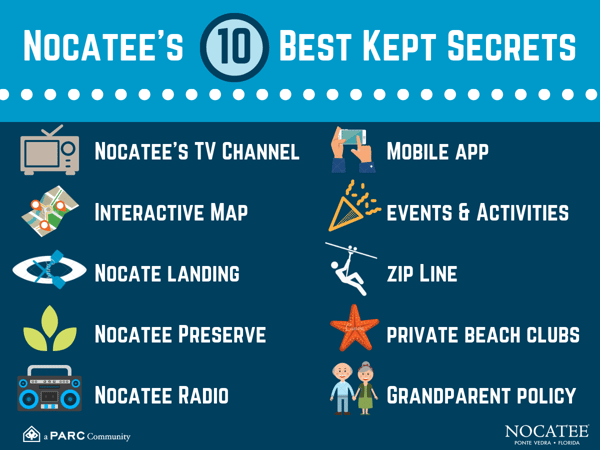 1. The Nocatee TV Channel
The Nocatee TV channel is a unique communication channel that connects residents, guests and future residents to the community. Nocatee's Cable TV Channel is broadcast exclusively in Nocatee homes through Comcast Cable. Shot, edited and produced by the Nocatee Video Production Team, this channel delivers upcoming event details, video footage from previous events, informational community update slides and much more.
2.

Nocatee's Interactive Map
The interactive Explore Nocatee map allows you explore everything you need for an exceptional quality of life in the award-winning master-planned community. The map also expands with the "regional" options to show other great options for various needs such as schools and healthcare, to provide a comprehensive guide to the area.


3. The Nocatee Landing
The new Nocatee Landing allows access to one of the most breath-taking views in the community. Located at the base of the southern trailhead of Nocatee's Preserve, adjacent to the Tolomato River (Intracoastal West). The connector road off Crosswater Parkway, Nocatee Landing Trail, is approximately 1 mile north of the new Crosswater collection of neighborhoods.

The Nocatee Landing's open-air pavilion features stunning views of the river, with parking and restrooms conveniently on site. Outdoor Enthusiasts can launch non-motorized water vehicles and explore the local waterways. Nocatee also has a

kayak and paddle sports launch located at the base of Nocatee Parkway, west of the Intracoastal Waterway. Here, residents can launch any non-motorized water sports, like kayaks and stand-up paddle boards.


4. The Nocatee Preserve
The Nocatee Preserve encompasses 2,400 acres of wildly beautiful land fronting a 3.5-mile stretch of the Intracoastal Waterway. Long-term protection of the natural environment and sustainability are hallmarks of life at Nocatee

. The Nocatee Preserve allows all of us to experience the wonder of hiking, horseback-riding and bird watching. The trails of the Nocatee Preserve are biking and walking friendly.




5. Nocatee Radio
The Nocatee Radio Station (AM 1630) keeps listeners informed on all things Nocatee! From upcoming events to driving directions, the station relays helpful information in order to connect guests and future residents to the community.

6. Nocatee Mobile App
The free app is available to download from the App Store and Google Play. Along with cool features like the "Nocatee Fun Cam" and an interactive map, residents can opt-in to receive Nocatee event reminders pushed straight to their smart phones!
7. Nocatee Events and Activities
Nocatee offers residents and guest with an abundant amount of events and activities for all ages. From farmer's markets to the perfect date night, the wide range is sure to please. Take a look at some of our favorite moments captured on video by clicking HERE.
8. Nocatee Zip Line
Are you a thrill-seeker looking for an exciting adventure? We've got you covered with the community's very own 330-foot zip-line for residents to enjoy year-round. Fly over Nocatee's Splash Waterpark from Rip Tide Slide Tower for incredible views and fantastic fun!
9. Private Beach Clubs
Known for their ideal locations and first-class amenities, The Lodge & Club at Ponte Vedra and Serenata Beach Club capture the beauty of the area's breathtaking, pristine shoreline. Nocatee's master-developer has partnered with both beach clubs to offer exclusive, discounted membership opportunities.


10. Grandparent Policy
Who says Grandparents have to miss out on the fun? At Nocatee, the Grandparent Policy allows up to two grandchildren (up to age 25) to accompany the Resident to the Splash Waterpark without the use of a Guest Card.
Nocatee is filled with fun events and activities, one-of-a-kind opportunities for outdoor recreation, resident benefits and unique chances to enjoy First Coast's finest offerings!
---
To learn more about new homes available in Nocatee, explore www.nocatee.com or stop by the Nocatee Welcome Center.