Mayday Handcrafted Ice Creams Press Release (July 20, 2023)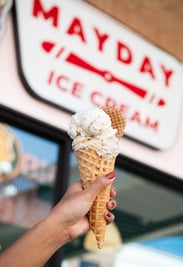 Mayday Handcrafted Ice Creams is opening its 13th location in the Nocatee Town Center. The locally owned ice cream shop will be situated between Dick's Wings & Grill and Luxury Nail Spa at 120 Marketside Avenue, Suite #303.
"It's a privilege to be opening and running a store that so many people love and see value in," says Stephen DiMare, Founder of Mayday Handcrafted Ice Creams. "We are thrilled to be one of many local businesses moving into the growing community of Nocatee." Stephen DiMare, a local St. Augustine native, is also the owner of Hyppo Gourmet Ice Pops.
Mayday offers a range of classic flavors with a modern twist from Queen Salted Caramel, Blueberry Toast Crunch, Cookie Crush, Coffee + Donuts, and Ice Box Lemon, to seasonal specialties like Passionfruit Golden Milk and Blackberry Earl Grey. There will also be various types of dairy-free options, as well as seasonal boozy flavors for the 21+ crowd—like Mayday's "High Dive Melon," a fresh watermelon sorbet with a splash of vodka.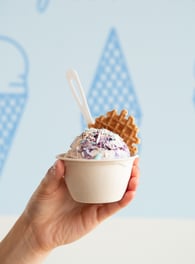 Ice cream enthusiasts can expect readymade pints of Mayday's ice cream, alongside its 24-plus handcrafted flavors available for dine-in or take-out. Mayday also offers homemade delicacies such as sprinkles and waffle cones and ice cream cakes. Mayday is slated to open in Fall 2023.
---
The Nocatee Town Center is home to great shopping, charming places to eat and drink and specialty services. To learn more, check out the Town Center Business Directory. The Town Center is also home to the actively-selling West End at Town Center neighborhood.
For more information on new homes available and the Nocatee lifestyle, explore Nocatee.com, stop by the Nocatee Welcome Center or call 1-904-924-6863.