In the late 1990's, The PARC Group began working on a vision for the approximate 25 square miles of land between the Intracoastal in Palm Valley and Highway US1. The land was owned by the Davis Family, and PARC's vision was for a master planned community that comprehensively addresses the environment, transportation, education, recreation and sustainability. This included the reservation of land for a variety of neighborhoods, churches, schools, recreation, offices and retailers.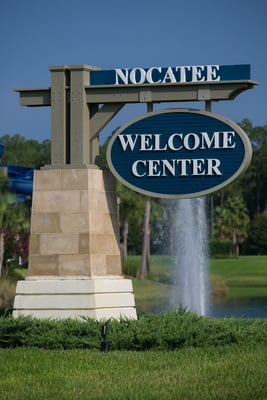 PARC broke ground in 2005 with the construction of the Nocatee Parkway at a cost of approximately $150 million. The first neighborhoods were Coastal Oaks, Del Webb Ponte Vedra and Austin Park, and the first residents moved to Nocatee in 2006.
The PARC Group also made commitments to donate a significant amount of land to St. Johns and Duval counties that includes:
2,400 acres (3.5 miles) on the Intracoastal Waterway for a county preserve. This is the Nocatee Preserve and is some of the most spectacular land in all of Nocatee.
Land for up to nine public school sites. The decision of when to build and the type of school rests with the School Boards, but PARC continues to provide population forecasts and remains committed to donating the land.
Land for two fire stations, two sheriff's substations, a county library and a county annex, at such time as the county chooses to build these facilities.
The year 2007 marked the beginning of the Great Recession, a time when Nocatee was in the very early stages of development. The PARC Group did not waiver from its vision and continued with construction of the major roads, the Publix shopping center, and the Splash Waterpark, which opened in 2010 with only hundreds of Nocatee residents.
In the year 2011, only 62 new homes were sold in Nocatee. Today, 62 new homes are sold in less than 4 weeks.
The original vision for Nocatee has remained unchanged, and PARC is in the final stages of completing what has become one of the most popular master planned communities in the United States.
---
To learn about new homes in Nocatee, explore www.Nocatee.com or stop by the Nocatee Welcome Center.