The Nocatee Town Center is expanding to offer even more retail, dining and grocery options.
Skinner Bros. Realty, in partnership with The PARC Group, is pleased to announce that the new Nocatee Town Center expansion will be anchored by a GreenWise Market, the specialty organic grocery store owned and operated by Publix Super Markets. This addition will now make Nocatee home to both the first GreenWise Market in Northeast Florida as well as the largest Publix in the region.
The new shopping center will be an extension of the current Town Center and will be located east of Crosswater Parkway and south of Nocatee Parkway.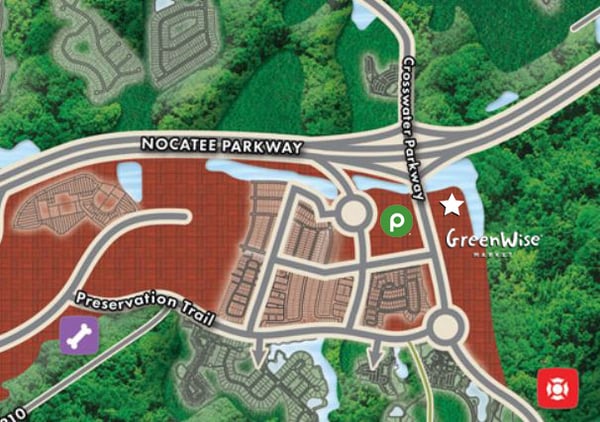 The first phase of the new shopping center will be comprised of two buildings, totaling 40,000 square feet of grocery, dining and retail spaces, with additional tenants to be announced in the near future.
"We are excited for these unique additions to our vibrant community," said Michael O'Steen, Director of Planning and Development at The PARC Group, Nocatee's master developer. "We remain committed to meeting the lifestyle needs of our residents and our growing community. The success of Nocatee is making it very attractive to popular local and national retailers".
The conveniently located shopping center will be at the heart of Nocatee and will feature exclusive golf cart parking as well as walkable waterfront space. Construction of the new shopping center is scheduled to begin in the next couple of months, with an expected opening date in Summer 2020.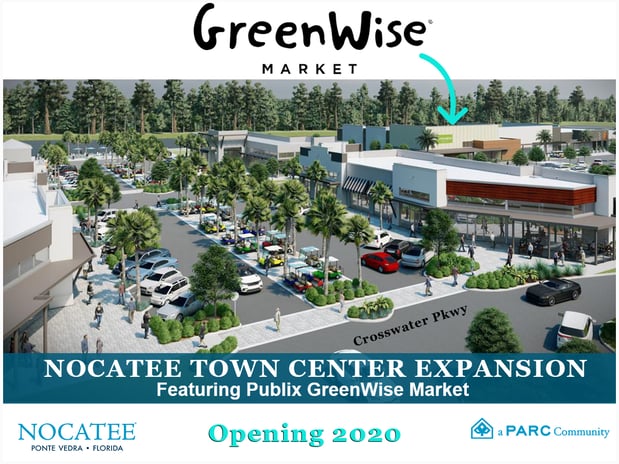 Skinner Bros. Realty will be the development manager in partnership with The PARC Group. Skinner Bros. previously developed the Town Center East retail space directly south of the new shopping center, which totaling five buildings that include tenants such as South Kitchen & Spirits, M Shack and Dunkin' Donuts, among others.
"It's been rewarding to see the tremendous success and popularity of our first phase of development at the Nocatee Town Center," said Riley Skinner, Vice President of Skinner Bros. Realty. "We're looking forward to continuing our partnership with The PARC Group in expanding the Nocatee lifestyle with new retail and dining options."
With great shopping, charming places to eat and drink, and specialty services, the Nocatee Town Center is a popular destination for community residents and Jacksonville area locals alike. Aside from retail, the Town Center is also home to an actively-selling neighborhood: Daniel Park at Town Center.
---
For more information on new homes available and the Nocatee lifestyle, explore nocatee.com, stop by the Nocatee Welcome Center or call 1-904-924-6863.