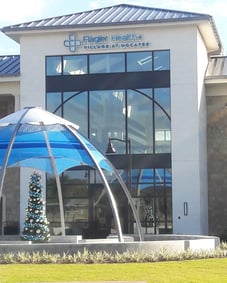 Nocatee is excited to welcome Flagler Health+ Village to the Town Center! Offering a multitude of services with top-of-the-line technology, the health village is ready to serve the Nocatee community and beyond. The impressive, two-story facility focuses on personalized total wellness delivered in a convenient way.
In a recent Walk-through Wednesday video, Flagler Health+ Vice President of Strategy Gina Mangus shared that the new campus was "designed in concert with the Community Health Advisory Council." She further explained that the council collaborated with area schools, businesses, residents and other stakeholders to build and deploy a customized healthy community plan for Nocatee.
Flagler Health+ Village at Nocatee features a number of state-of-the-art services including Signature+ Concierge Care: a subscription that gives patients access to a physician 24 hours a day, 7 days a week; lab and imaging services that include multiple modalities; and Care Connect+: a space for community classes to advance physical, social, and economic health. Kookaburra Coffee Shop, a local St. Augustine coffee shop, is located on the first level of the health village alongside TechConnect+.
Other Services include: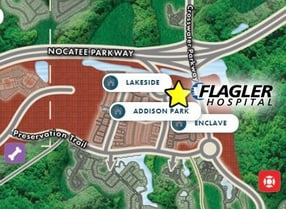 - Orthopedic Specialists
- Primary Care
- Heart and Vascular Care
- Flagler Health+ Anywhere
- Health Coaching
- Park and Performance Pavilion
Flagler Health+ Village is located on a 4 acre property adjacent to the Nocatee Town Center at 351 Town Plaza Avenue, Ponte Vedra, Florida 32081. For a guided-tour of this space, visit the Nocatee Homes Facebook Page.
Nocatee's Town Center is constantly growing. To stay updated, please visit Nocatee's Town Center Directory.
---
To learn about new homes in the Nocatee community, explore Nocatee.com, stop by the Nocatee Welcome Center or call 904-924-6863.