---
The PARC Group, master developer of Nocatee, has unveiled plans for the expansion of the community amenities, the largest addition to the master-planned community's world-class amenities since its founding over a decade ago.
"Nocatee is more than homes, neighborhoods and shopping centers — it's the lifestyle we enjoy," said Rick Ray, President and CEO of The PARC Group and Chairman of Nocatee's Community Development District. "That lifestyle is centered around the parks, trails, swimming amenities and community events. And that lifestyle is about to get even better."
Nocatee Spray Park
Nocatee residents already have the highest water slide tower in Northeast Florida, a lagoon pool, a slow-moving lazy river, rapid-tide whirlpool, and a 330-foot zip line to fly above it all. "If there's anything we've learned over our first decade, it's that our residents love water," Ray said.
Enter the Nocatee Spray Park. As part of the planned expansion, The PARC Group is unveiling its newest water amenity, a four-story above ground interactive spray playground — the first and only of its kind in Northeast Florida. Instead of swimming in water, park-goers will be sprayed with water while sliding, climbing and playing with friends.
A large deck, food court and bar are being added to allow family members to relax nearby. Funded and constructed by The PARC Group, construction is set to begin this summer.
The Nocatee Spray Park, slated to open March 2019, will be located between the Nocatee Community Park and Nocatee Swim Club, on the western side of Crosswater Parkway.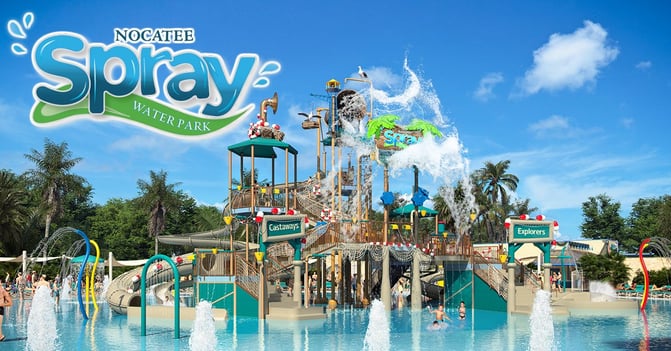 Expanded Activities Field
To provide for the community's expansive and growing range of entertainment and activities, a large outdoor area located south of the Nocatee Swim Club will be developed to host events held currently at the Town Center, such as the Nocatee Farmers Market, festivals like Roscolusa, and Nocatee Drive-in Movie Nights.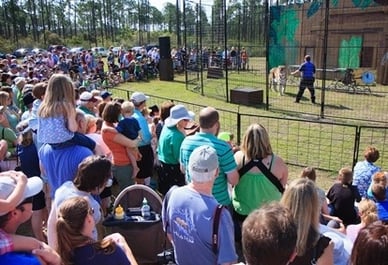 The new event field will be more than twice the size of the current event area and will include a new band stage for concerts and expanded parking. It is expected to be completed by March 2019.
"Events and activities are a major part of the Nocatee lifestyle," said Roger O'Steen, Chairman and Founder of The PARC Group. "By expanding this area and adding the band stage and parking, we're ensuring our residents have the perfect spot to host even bigger and better events and activities for years to come."
---
To learn more about the Nocatee community, explore Nocatee.com, visit the Nocatee Welcome Center or call 904-924-6863.